Updated Thursday Jan 12 Below
Some updates since the weekend:
The Hilton Centre has estimated the cost of a transition coordinator to manage the change of address at $13-$16000.  I will encourage Council to cover this cost either through the Community Grants program or directly. Hopefully with the help of provincial and federal grants as well. You can see their letter sent to Council this week at the bottom of the post or here.
Tseshaht First Nation passed a resolution at their AGM supporting the name change of A.W. Neill school.  A motion on the street issue did not pass.
Today:@Tseshaht FN AGM.
Motion PASSED to support name change for A.W. Neill school in #PortAlberni.#Nuuchahnulth #Racism #Indigenous

— D Ross (@drrossjr) January 8, 2017
John Alan Jack, Chair of the Alberni Clayoquot Regional District and Councillor at the Huu-ay-aht First Nation was interviewed on CBC Radio Wednesday afternoon.  Unfortunately, a recording is unavailable, but a couple days before he tweeted:
#iisaak is a Nuu-chah-nulth term that can be interpeted as "greater respect" & "respect with caring." It is a cornerstone of NCN tradition.

— John Alan Jack (@Garacaius) January 9, 2017
Our leaders relied on #iisaak to maintain trust publicly to create & maintain vital trade/defense/resource agreements in an oral culture.

— John Alan Jack (@Garacaius) January 9, 2017
Also, #iisaak is a *public* demonstration & acknowledgement of mutual respect between people/families/tribes in the context of an agreement.

— John Alan Jack (@Garacaius) January 9, 2017
#iisaak extends to Nuu-chah-nulth political culture even today. Our people expect governance conducted in the light of a big house fire.

— John Alan Jack (@Garacaius) January 9, 2017
All this matters b/c we avoid misunderstanding by conducting our political selves "in a good way, " as my Tayii says, with #iisaak.

— John Alan Jack (@Garacaius) January 9, 2017
When a leader expresses a concern honestly and with vulnerability on the public stage, that is the first step in the journey of #iisaak.

— John Alan Jack (@Garacaius) January 9, 2017
In that vein, I wish to suggest to the Nuu-chah-nulth people that we acknowledge @chrisalecanada for such work. https://t.co/nKpMbaY2Wk

— John Alan Jack (@Garacaius) January 9, 2017
For #Reconciliation, like #iisaak, is only true if it is reciprocal — if it flows in at least two ways.

— John Alan Jack (@Garacaius) January 9, 2017
And finally, the National Association of Japanese Canadians sent a letter to the AV News in addition to citizens supporting the Reconciliation efforts.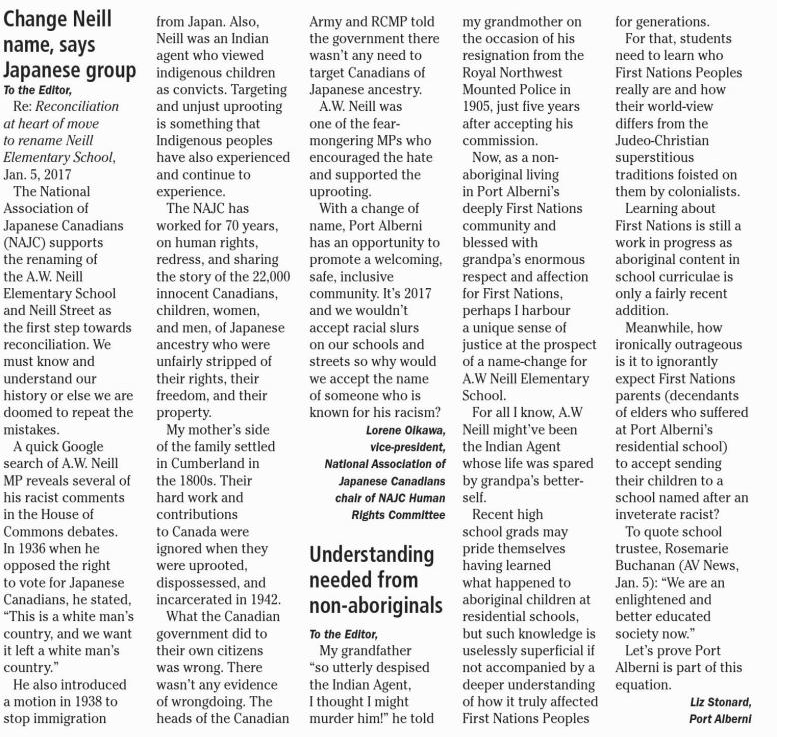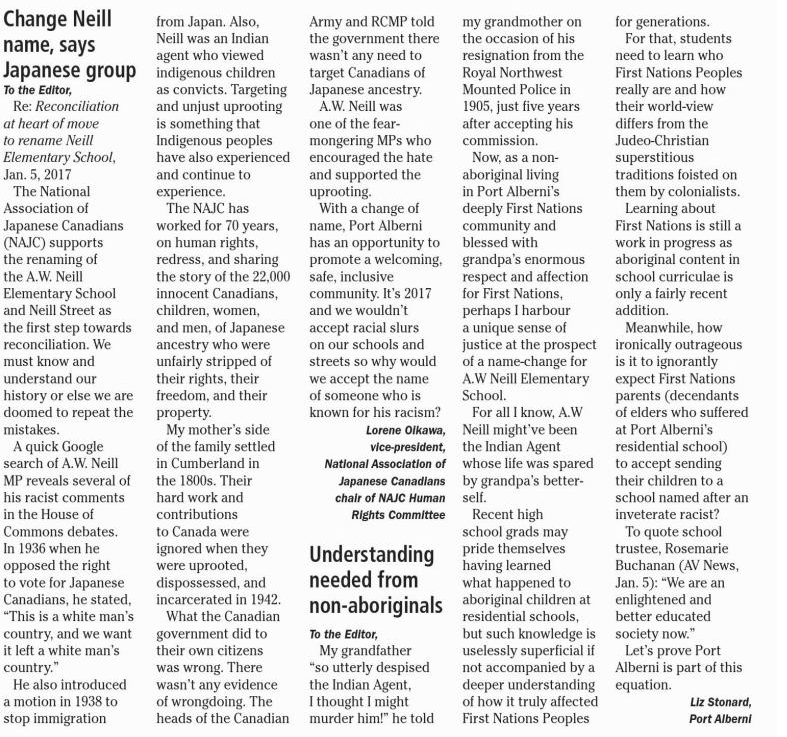 The support for this historic bit of work seems to be growing and Port Alberni is being watched by groups all over on how it deals with this important issue.
---
Hi everyone,
Below you will find a document I have been working on since early December on the issue of Honouring and Renaming Indian Avenue and Neill Street. I didn't decide to move on with it until after the last council meeting in December.
So that everyone is on the same page with the same information with this difficult conversation, please read the document and this post in full before commenting.
This document is a draft. It is only my research. There may be errors and it will change and be updated. If you see an error please let me know.
These are my personal writings. This does not represent the City of Port Alberni.
If you have any trouble viewing the document below, you can download it directly here.
The report includes justifications, history, suggestions on alternative commemorations, costs, and implications for residents and non-residents.
http://www.chrisalemany.ca/wp-content/uploads/2017/01/ReconciliationRenaming.pdf
This is an issue that came to me from Chris Stevenson.  Below is an interview he did last week with CBC on the topic. He did a paper on A.W. Neill and we started talking about it a few months back with Trustee Rosemarie Buchanan when the school was being switched to an Elementary School.
The motion I will introduce tomorrow (the 9th) will be:
That Council for the City of Port Alberni, in the spirit of Reconciliation, work with the Hupacasath and Tseshaht First Nation Councils, the Community and any affected property owners to potentially rename Neill Street.
You might notice mention of Indian Avenue has been removed.  After talking with Jolleen Dick of Hupacasath I have decided to remove that at this point but I have kept it in the document since it was part of the original intent and so all of the information is there.
You will also see it says "potentially". While I believe the renaming should proceed, no final decision will be made on the 23rd when the motion comes up for debate, only a decision on whether to move forward and start the consultation process with property owners, First Nations, the NTC and cultural groups and anyone else affected.  This was also my intent from the outset.
Reconciliation is an issue that requires a commitment to calm, thoughtful discussion in order for all views to be heard and respected. I invite your constructive feedback in the comments section.
I have shared this document and post with my fellow Councillors and I will bring it to the Council meeting with the Motion on January 23rd.
What the document does not mention in large part yet is the opportunity for healing.  What ceremonies could we undertake? What new memorials could we create?  What new understandings could we come to as we acknowledge and work through the pain of the Indian Residential School system, Japanese Internment, and Anti-Immigrant sentiment that have deeply affected our communities?
Those are the questions I would really like to hear answered as they are the ones I think we can get to now that this conversation has begun.  It will not solve the Reconciliation question overnight, but I hope it will get us a little ways there.
Please also consider the words of the others involved to this point, Chief Cynthia Dick of Tseshaht, Councillor Jolleen Dick of Hupacasath, Trustee Rosemarie Buchanan of SD70 and others in this AV News article.
Chuu
Chris
http://www.chrisalemany.ca/wp-content/uploads/2017/01/letter-of-cost-khcc.pdf